One of the things that I have loved about coming back to LA is finally being able to see all of the murals that pepper the city's freeways. Many of the murals were put up for the 1984 Olympics including this one which was painted in 1983 as part of Kent Twitchell's
7th Street Altar Piece.
The mural is of environmental artist
Lita Alburqurque
who is pretty bad ass in her own right. Public art is something LA has always done well and much like any city that has a booming pop culture, there is almost always resistance from the counter-culture.
Underground art is also something LA has done well, unfortunately the two art scenes often clash when it comes to public space. Many of the Olympic murals were tagged and graffiti bombed in the 80s and 90s, almost completely destroying some of the Olympic murals like the Lita Alburqurque one above. Fortunately, the
Mural Conservancy of LA
has created a Board of Directors and an Advisory Board including strong figures from both worlds like graffiti artist, Street Phantom, and the artist of this mural here, Kent Twitchell. The non-profit has been restoring murals in the city of LA since 2012. This combined with LA's adopted no-tolerance graffiti laws (much like the one in New York City) have helped restore and maintain the beauty of these works which get plenty of viewing time (much more than they would in a museum) due to the very nature of LA traffic culture.
However, as I learned while researching this blog post and going further down the rabbit hole, the struggle between the two worlds still continues. (Although, I don't characterize "tagging" as art.)
A couple days after restoration of the Jim Morpheus Monument in 2011...

Jim Morpheus Monument, newly restored, newly graffiti bombed in 2011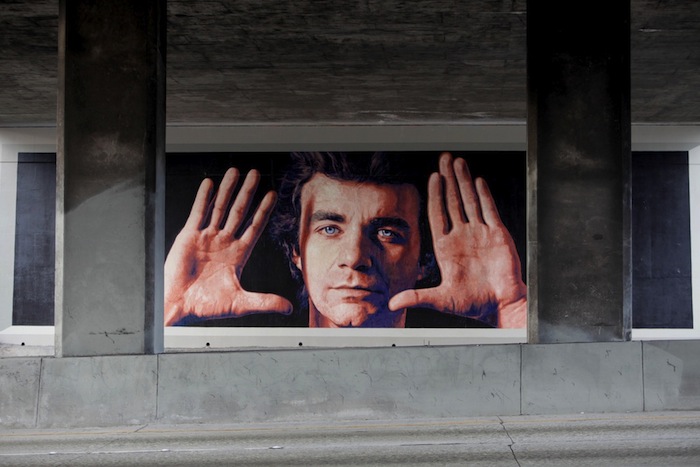 Jim Morpheus Monument mural that looks opposite to Lita Alburqurque Monument on the 101 freeway
artist: Kent Twitchell