Introducing children's librarian, YA novelist, and the blogger mastermind behind
Desirous of Everything
, Sarah O'Holla. I have the pleasure of working with Sarah, but since we are separated by three floors and two worlds (since she works in academics and I work in admin) I read her blog more often than I actually get to spend time with Sarah. But her blog is very inspirational, especially for writers, which makes me feel like I see her a lot more.
We recently just had a book fair at our school and seeing Sarah in action (along with fellow librarians) was amazing. She has a wealth of knowledge on YA novels and children's literature. Give her an age, describe a kid and she has the perfect recommendations. I asked Sarah if she felt her work as a librarian helped fuel her writing and her answer was an enthusiastic, "Yes! It is the best day job that a YA writer could ever dream for!" She elaborated by saying, "A big part of my job description is to read books so that I can recommend them to kids. But this is also so helpful to me as a writer. I am constantly shocked when I meet aspiring children's or YA writers that don't read children's or YA books. And I mean read a ton of them, not just remembering loving Judy Blume as a kid."
Sarah has two completed manuscripts which she is currently shopping around through her agent
Marissa Walsh, represented by Fine Print Lit
.
(*Please note that Marissa is not currently accepting submissions, but there are several agents part of the Fine Print agency)
Sarah had the great fortune of meeting her agent in a
Gotham Writers Workshop
. (Note to all writers, if you meet your agent IN a writing class, chances are they have fantastic sensibilities!) I asked Sarah about her working relationship with her agent. I know a handful of writers who have actually acquired agents and I'm always fascinated by the dynamics of these relationships. About Marissa, Sarah said, "I am lucky enough to have found a literary agent who gets me, and my writing and believes in me-that's a big one for this writer's fragile ego." I asked Sarah about the dreaded topic of "rejection." Sarah said, "I have an arsenal of rejection letters...And a lot of them, are 'really good' rejections, as in really encouraging. Sometimes this still makes me really bummed, but here's what I try to remind myself: I may not be a published writer, but I have had editors read my work - that's a big accomplishment!" This is why I read Sarah's blog. She exudes positivity. She ended that question with, "Someday I will be published but only if I
never give up
. This is what keeps me writing. That and the fact that there just must be some crazy thing about me that has to write. I kind of don't have a choice about it." Ah yes, the writer's creed.
And what are her stories, you might ask? Currently, Sarah has a tween novel about band camp out with editors right now. Sarah admitted, "Yes, I went to band camp, I was in the color guard!" She has been advised not to share snippets from her manuscripts that are out around town, however she did share a snippet of her Work-In-Progress, a young adult novel about a teenage girl (obsessed with Emily Dickinson) who starts cutting after her sister goes to rehab for alcoholism. (This of course would make me drool as an adolescent who once carried around copies of
Go Ask Alice
and
Catcher In The Rye)
What can I say about Sarah's writing other than, the girl's got range! Here's a sneak peak at her WIP:
Even though Livy, Suzanna and I had been going to these parties for a while now, it was pretty weird how I didn't really know anyone new yet. Suzanna and I would always find a spot around the kitchen counter where people were constantly coming and going, looking for more booze or snacks or to see if they'd left their pack of cigarettes on the table. And we didn't really have to talk to anyone but each other. I liked it this way. We were allowed to be here, we belonged and we could still just be ourselves.
For a rare moment, I was alone. Suzanna had gotten up to watch some Youtube video and I was just waiting for her to come back. I'd had my fare share of "people falling down so we could laugh at them" videos. As I sat alone in the noisy crowded house, I noticed how the light in Mags' kitchen always had a greenish tint to it, and wondered what her mother was like.
"Becca, your sister's been in the bathroom for a while," Mags said to me, looking up the stairs. "Maybe you should…"
I knew Mags wasn't being a bitch, but I saw eyes around the room locking with one another, and I stared at her cold before I stood up.
As I climbed the stairs, I rubbed my eyes with my hands before knocking on the bathroom door. When did I become so old feeling?
"Becca?" Her voice sounded bright and slurred and confused at the same time. Just like a little kid's. But a sick little kid, rather than a drunk one.
I opened the door. Livy was sitting on the toilet with all of her clothes still on and I noticed a wet stain on her jeans. Her eyes were halfway closed and she was resting her head on the wall next to the toilet.
"I'm just so sleepy," she said.
"Yeah, it's late, let's go home." Somehow I managed to get her to stand up with my arm around her waist, but when we got to the stairs I knew we were in trouble.
"No, let's just go to sleep here," she said, and I was losing my grip as she started to try and lay down.
"Suzanna," I started to call down the stairs. By now she must have noticed that we were both MIA.
"I don't even need a pillow," Livy whispered into my ear and this time I yelled louder.
"Suzanna!" Jake Seibert walked by the stairs and looked up at us. "Could you find Suzanna for me?" I asked.
"Jesus, Livy," he said and started snickering.
"Hi Jakey," she called down.
"Jake," I said, "Now." He walked away. "Come on Livy, one step at a time," I said, but then Suzanna was there, bounding up to me two steps at a time.
"She was in the bathroom again," I said as Suzanna put her arm under Livy's other shoulder and we carried her down.
"Hi Suzanna, you look so handsome," Livy said.
"Hi Livy," Suzanna said, running her hands through her short hair. Suzanna loved Livy almost as much as I did. And I knew that compliment was going straight to her head, even though she was well aware of how drunk Livy was.
By the time we made it downstairs and out the door, the party was still in full swing. No one said goodbye, or even noticed we left.
Even though it was May and warm during the day, at night it was cold. But I couldn't stop to zip up my hoodie as we crossed pleasant street and headed around the corner without risking losing my grip on Livy.
"Funny how this walk seems so short when you're not carrying a dead person," Suzanna said and then grimaced. I know she was being funny, but it almost did feel like Livy was dying, and I didn't really want to think about that. I forced a "ha" anyway.
"Party on!" a drunk college kid called out to us as he stumbled by with a red plastic cup in his hand.
"Yeah," Suzanna yelled back at him, dead pan sarcastically, and I genuinely laughed at this.
"Pathetic," I said. I guess when you didn't grow up in a college town, partying was a bigger deal. Livy, Suzanna and I had seen drunk twenty somethings stumbling around on weekend nights since we were little and maybe that had something to with why we were in this situation before we were even 18 years old.
We walked underneath our neighbor's magnolia tree as we rounded the corner and headed down the driveway. Livy plucked a flower from a branch. Almost as if the scent of the flowers had sobered her up.
"This is so beautiful, I could cry," she said, staring intently at the pink and white blossom.
"Beautiful things should make you feel happy, not sad Liv," I said, almost absent mindedly. As if I was saying it to convince myself that it was true. But she didn't seem to be listening anymore.
By the time we got back home, Livy was practically asleep on her feet so it was easy to get her into bed. I had to make it look like she didn't pass out drunk though, like she came home from the party, took off her shoes, pulled down the covers and went to bed soberly without ever peeing her pants. Suzanna stood in the doorway of our room. I turned to her.
"I can take it from here, thanks," I said. Suzanna lingered for a bit and the skin under her eyes was dark. She looked hollow and sad and I tried not to feel that sadness that was practically shooting out of her and straight into my heart. I needed to keep my armor on.
"Becca, maybe..." she started, but I interrupted her.
"I'll call you tomorrow," I whispered and she turned to go.
Livy didn't make a sound as I untied her shoes and pulled them off. I pulled off her jeans and stuffed them in the hamper, then I took the blanket off of the chair that we shared for reading, that was covered in clothes, and covered her up to her chin.
I climbed into bed and turned my light on. I took out my notebook and started to write while my other hand played with the lighter next to the candle on my nightstand. I flicked the lighter on and off until the metal got hot underneath my thumb. And over and over I wrote the only thing I could think inside my head. I don't feel anything.
Forget my fifteen year old self, my 30 year old self is hooked! When I asked Sarah about her writing process and if she had any pictures of her self in "action" I love that she sent me this picture of her with her laptop, in bed with her cats. She also sent along two cartoons with her own text
lifted from
her guest post on process at the lovely Edison Rex
which I inserted throughout this post
. About process Sarah said that she has come to realize that her process is always changing. I loved that idea. If we are always changing shouldn't the way we create? For Sarah's latest WIP she gave herself a very public writing goal which she tracked on her blog, Desirous of Everything. Sarah committed to writing 500 words a day for at least 8 weeks. "I got myself a calendar, some stickers and tracked my progress on my blog." You can read the start of that challenge, here. Sarah continued, "This turned out to be an amazing way to write the first draft of this book. But who knows, the process for my next book might be completely different. And I still have to tackle revisions!" On revisions, Sarah said, "This will come after not looking at my first draft for at least a month (maybe 2). Then I will work on draft 2 and send that to my agent. Her comments will be the start of draft 3, and this could go on for 6 or 7 more drafts until it's ready to show to editors. This decision is always made together with my agent."
Writing is hard, hard work that takes discipline and dedication. And even Sarah O'Holla, who, is a refreshing wake up call of just what it takes, admitted that her biggest obstacle is sitting down to write. "I try to write every day now, and every day it is one big obstacle hanging over my head."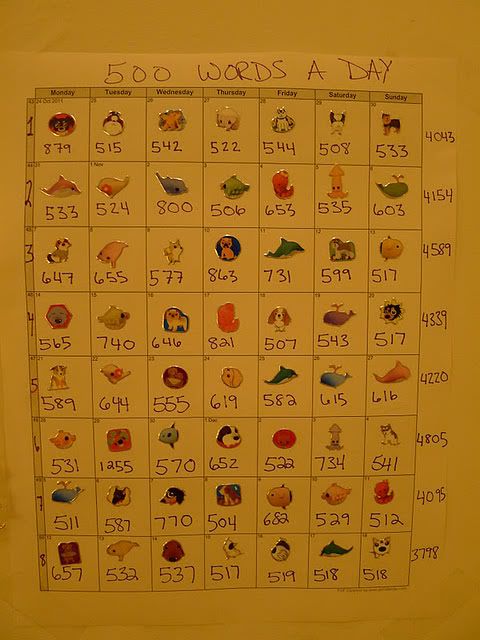 I asked Sarah, who has a BA in English and an MA in library science what drew her to write and what drew her to the YA genre. She said, "I guess I've always been a writer since I was imagining up stories with my little Fisher Price figurines and always will be a writer, even though sometimes I feel like, I'm just going to quit-when blocks and rejections start to get me down." (Love it when writers share the struggle!) Sarah started writing seriously during her final semester of grad school when she took a class on children's literature and fell in love with it all over again. Inspired by that year's Newbery winner, Criss Cross by Lynn Rae Perkins, Sarah "thought for the first time in years about wiring again, and for the first time ever about writing a novel." About the YA genre, she said, "I think my natural writing voice has always been tween or YA. I just had forgotten all about it! As a super nerdy high school student (who won the "best English student" award senior year) I was pretty snobby about only reading the classics. I stopped reading anything remotely YA in the 6th grade. Same goes for English major, college student me." In library school, Sarah felt that passion when discussing literature in her children's lit class. "Then I couldn't stop reading children's and YA. Five years later, I haven't looked back since."
If Sarah had one piece of advice for aspiring writers she had this to say, "Don't stop after the first draft. As hard as it may be to accomplish- and you should give your self a huge pat on the back and go out for a brownie sundae or something when you do- a first draft is not a novel. Keep revising and respect your process." See what I mean about inspiring?
Hopefully, Sarah's hard work (and her agent's hard work) will pay off in 2012, and us lucky readers will have the great pleasure of purchasing her first published novel, Always A Trombone. And I personally, can't wait for the future books, as we got to greedily soak up the snippet posted here! Sarah, thank you for your time and for letting me guest post on your blog this month! I will be first in line at your book signing this year! You can reach Sarah through her blog, Desirous of Everything, or through her agent, Marissa Walsh at Fine Print Lit Agency And you can also follow her on twitter @Soholls!